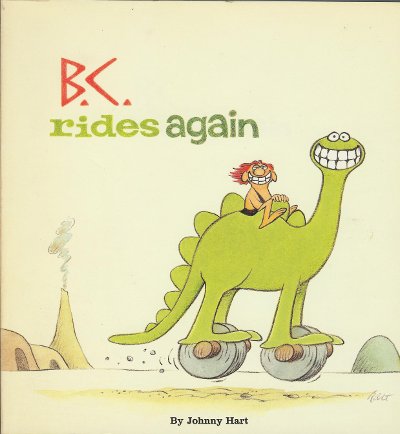 Jag har alltid uppskattat det slags oöversättbara ordvitsar som B. C. brukar ägna sig åt, och i det här albumet är det till och med ovanligt tätt med sådana. Ett exempel:
A: How come you never show any feet? [till en person som målar]
B: I can't draw 'em!
A: So you just leave them off? ... What kind of attitude is that?
B: Defeatist.
Den här sortens vitsar vimlar det av, och för att göra det ännu värre för den som till äventyrs funderar på att översätta strippen så anspelar de dessutom ofta på något i bild. Det finns goda skäl till varför B. C. oftast publiceras på engelska, även i Sverige. Ett annat exempel:
A: Gimme a quick headline for this front-page story.
B: What's it about?
A: This dwarf scams these little old ladies at a séance, ... then skips town with their life savings.
B: "Small medium at large."
Och så här håller det på. Lysande!
Johnny Hart:
B. C. Rides Again
Andrews and McMeel, 1988
128 sidor
ISBN: 0-8362-1803-5
Andra bloggar om:
böcker
,
läsning
,
johnny hart
,
b.c. rides again
,
serier

Technorati tags:
böcker
,
läsning
,
johnny hart
,
b.c. rides again
,
serier
intressant.se